An Innovative Financial Calculator
Money Wizard
Contact Us
GCD Business Centre
South Circular Road
Dublin 8

Tel: 353 1 6275620
An Actuary in your pocket — Leading Broker
What is it
One of the world's most powerful Financial Calculators is now available on the iPhone. It is easy to use, but extremely powerful. Used well, it can help you in your quest to save money on many financial transactions. Equally useful to the professional Financial Planner and to the individual, the Money Wizard has five different calculation scenarios: Loan, Investment, Life of Capital, and Retirement, each of which can be Amortized. With over 80 different calculation types, you will be amazed at how often you will use this utility.

Some things the Money wizard can do for you:
Learn how to shave thousands off mortgage repayments
Take account of inflation for any type of calculation
Find out how much life cover should be in place
Calculate how long that nest-egg will last
See how soon you/your client can retire
Calculate the pension required to support lifestyle
Calculate Loans using APR or EAR
Plan for the future, by running 'what if' scenarios
Understand how much loans are REALLY costing
Compare investment opportunities, so you can pick the best option
- And hundreds of other uses!
Loan Wizard
Whether you already have or need a new mortgage or loan, we can help you to work out potential payments, payback periods, expected or actual interest rates, or how much you can borrow!
Even better, you can work out the results based on APR or EAR.
Use the escalation option to work out how you can save thousands on your mortgage repayments
Investment Wizard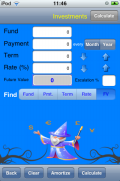 Calculate how much your investments will be worth in the future, or what return you have actually achieved on your existing investments.
Use the Money Wizard to see how long it will take to achieve your target goals, or how much you should invest to buy that luxury item.
Life of Capital Wizard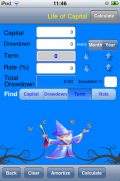 Do you have a nest egg? Wouldn't it be nice to see how long that money will last if you take a regular income from it?
Or, use the LoC calculations to figure out how much you need to retire. It can even tell you how much Life Cover you should have.
You can even factor in inflation to the results
Retirement Wizard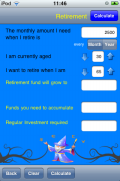 Just enter the amount you want to draw down each month, your current age, and the age at which you want to retire.
The Money Wizard will tell you how much you need to put away each month in order to reach your goal - it's that simple!
Amortization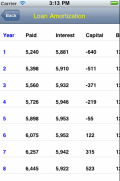 All calculations can be amortized, so that you can see a year by year account of exactly what happens during the life of the transaction.